History:
Having owned 2 previous FTOs in 2002 we decided it was time to do something different, so we started a new FTO we didn't realise what it would turn into.
After 2 years of development in 2004 we introduced the world to the first ever 2.5 ltr v6 - 6A13 Twin Turbo Mitsubishi FTO and we had 330bhp/325lb-ft torque which at the time seemed massive. Originally it was a track day car, however we were invited by the organisers to compete at TOTB IV. We added 100 shot of nitrous and that's when we got hooked on the 1/4 mile. We finished 2nd in the final, losing out by a nose to Andy Robinson in his Rover.
This spurred us on, and we continued to pioneered the development of this engine (Originally from a Galant VR4) we designed forged internals, new cams, light weight and adjustable pulleys, tubular manifolds, we did the first ever single turbo conversion, designed F5M42 FWD Dog boxes you name it we did it eventually pushing this engine all the way up to 630bhp/545lb-ft, setting 1/4 mile records time and time again, eventually getting down to a 10.554 @ 136.21mph.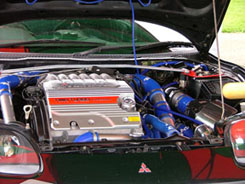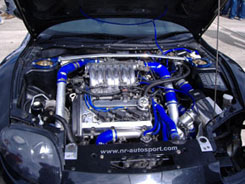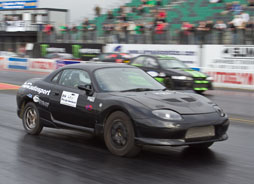 In 2011 we decided to take a different route, the V6 was reaching its limits, warping cranks ever few months it was time for a change. A big change. There were several EVO engined FTOs in the UK that had been imported from Japan we looked at buying a couple of them, but decided we could build better our selves, so we set about building the engine. More details about the engine can be found on
The Car
page, the engine proved to be the beast we had been looking for 957bhp/750lb-ft on the engine dyno. Now we had to tame it.
In 2012 we started setting the car up, we managed to get the times down to 10.06 @ 127mph, before having diveshaft issues. Our "32mm" drive shafts were not up to the job, breaking 3 CV's in the space of 6 or 7 runs. So it was time to re-develop them, the winter of 2012 will see the car become stronger and faster ready for the new season.